Baptisms at St Mary MacKillop Parish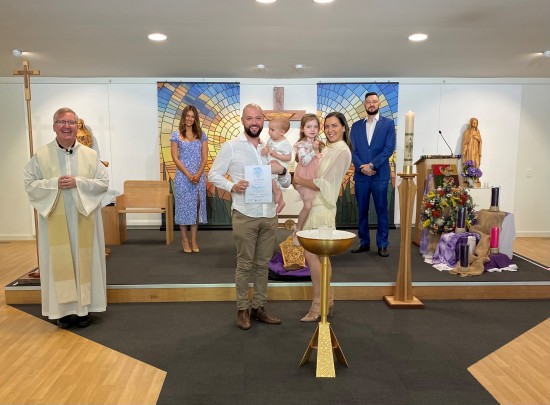 On a number of Saturdays each month we now celebrate the Sacrament of Baptism at our Southern Mass Centre - 94 Oran Park Dr, Oran Park.
- For a Baptism to take place in the parish, one parent must be a baptised Catholic. Also, families presenting children for baptism are encouraged to be involved in the life of the parish, including regular worship at weekend Mass, and to remain committed to this involvement after their child's baptism to support their faith life and ongoing faith formation.
- 'Private' baptisms or Sunday baptisms are not possible at this time.
- Those families who regularly worship at our Northern Mass Centre of St Mary Mother of God Church, Leppington can enquire if a baptism is possible at the Northern Mass Centre. This will depend on the availability of a priest or deacon to perform the baptism.
*** Due to the high demand for baptisms, in 2022 we will celebrate 8 baptisms per session. Also, as the Southern Mass Centre can only accommodate 400 people, families are allowed a maximum of 50 people to attend per candidate. So along with the parents and child to be baptised, you can have 47 other guests (that includes the 2 godparents).
Dates for Baptisms between now and May 2023 are now open.
To have a "baptism pack" prepared for you to collect, please send an email to oranpark@dow.org.au and note 'Baptism Booking' in the subject line of the email.
Please include the following details:
Parents' Names
Address
Child's Name
Child's Date of Birth
On receipt of your email, our Parish Admin Team will then prepare your 'baptism pack' for you and let you know when it will be available for you to collect. The pack will include a letter from Fr David, details about online booking for your preferred date, information about choosing Godparents and a link to our online Baptism Preparation Course.
Please note: Due to Covid protocols, 'baptism packs' were, in recent years, emailed out. However, now that the Bishop has reinstated the obligation to attend Mass, and the Parish Office has reopened to visitors, these packs will now need to be collected (even for families who have previously had children baptised in the Parish).
BAPTISM PREPARATION PROCESS
All families presenting their child/ren for Baptism will be required to participate in a compulsory Baptism Preparation process. To assist families, with a newborn and/or young children, who may find it difficult to come to 'face to face' preparation, we have now moved to ONLINE baptism preparation. More details will be available in the 'baptism pack'.
BAPTISM 'MEET AND GREET'
Also, along with completing the ONLINE baptism preparation course, families are asked to attend a face to face 'Meet and Greet' session with members of the Parish Baptism Team, that will take place in the lead up to the Baptism Session. This 'Meet and Greet' will also be attended by other families also presenting children for baptism. More details will be available in the 'baptism pack'.
- Completion of the ONLINE baptism preparation program and attendance at the 'Meet and Greet' must take place prior to the Baptism Ceremony.
- For children who are 7 years old or older who wish to be baptised, along with the Baptism Preparation Session for their parents, a Formation & Preparation program for these children (that is supported by their adult family members) will need to be completed prior to Baptism.
- For adults wishing to be baptised, please contact the Parish Office for information on our Rite of Christian Initiation for Adults (RCIA).
If you have any further questions about the baptism process please contact the Parish Office, via email oranpark@dow.org.au or ph. 46482226.