Our Vision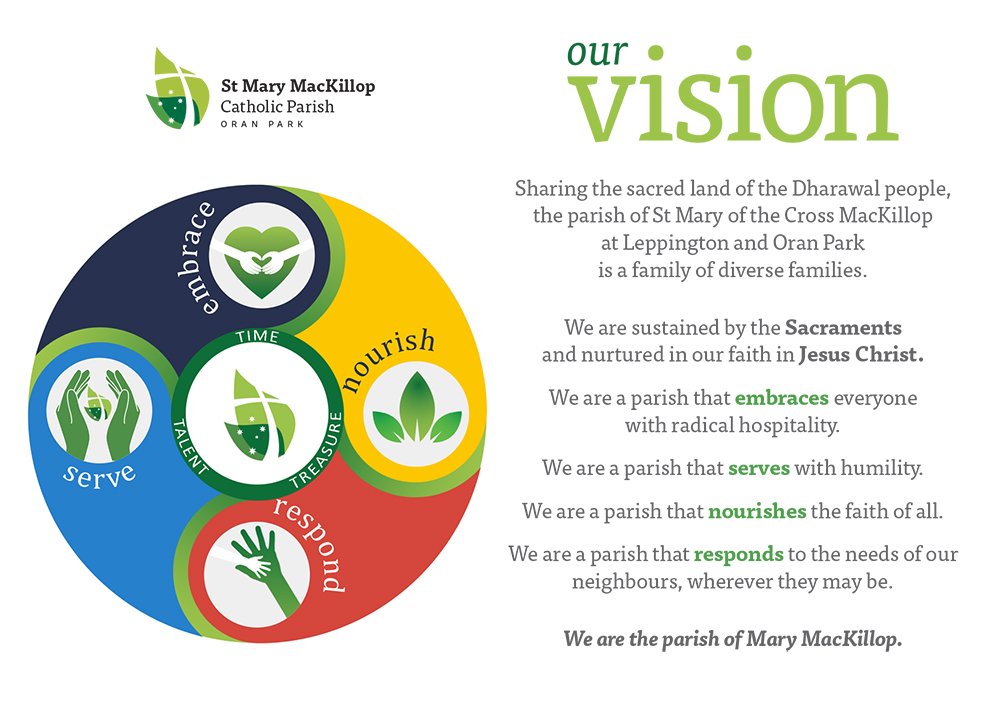 2020 marked the 5th birthday of our parish – that was founded on 22nd June 2015. While over the last five years we have had to build physical structures (such as the construction of our Oran Park Mass centre and the refurbishment of our Leppington Mass centre) while at the same time create and set up different ministries and teams, now that we have turned '5' it's important for us to become more strategic in our planning, and to set ourselves some key short, medium and long term goals and priorities. As such after a period of discernment the Parish Leadership Team and I are inviting all the members of our parish to focus on 8 key areas as we move into 2021 and beyond:
Focus 1: weekend experience ... Mindful that "Among the many activities of a parish, 'none is as vital or as community-forming as the Sunday celebration of the Lord's Day", this focus area is about continuing to foster a 'welcome culture/welcome ministry' in our parish. This focus includes promoting 'Welcome events' for new parishioners, and the launch of 'MacKillop Families'.
Focus 2: Alpha … While our parish has had the opportunity to run Alpha (that provides an experience of hospitality and community life, and an opportunity to explore life and the Christian faith) we will be re-launching Alpha and inviting those who haven't had a chance to experience Alpha to do so, and in turn then invite others to participate.
Focus 3: new format/process for sacraments of initiation
Focus 4: the ministry of catechists in state schools, and our ongoing outreach to the very high number of Catholic children attend a state school in our parish boundary.
Focus 5: Creating and fostering opportunities to connect and re-connect with newly married couples, our youth (primary/high school), young adults (18-35yrs), families who have presented their children for baptism, along with families whose children attend Catholic and state schools.
Focus 6: renewing ministry pipelines: ie. the process for people to get involved in a parish ministry – offering formation for new and existing parish ministries, as well as holding leadership summits & liturgical ministry summits, and wider 'Parish Assemblies', along with the re-imagining of our Parish Pastoral Council (aka 'Parish Focus Group')
Focus 7: towards Badgerys Creek 2026 ... Long term visioning around the structures that will be needed in the future so that our parish, at both Mass centres, can continue to fulfill OUR VISION.
Focus 8: 'language & communication change': as well as making changes to the titles of various groups and ministries to better reflect their purpose and charter, along with renewing our parish website and other communication tools, this focus is about fostering ways to communicate to everyone that we are not just parishioners but 'Partners in Mission'.
Let us pray that founded on OUR PURPOSE as a parish (to form disciples who joyfully live out the mission of Jesus Christ) we will strive to remain faithful to OUR VISION (that calls us to embrace, serve, nourish and respond).
Fr David Catterall MTh | Parish Priest
A copy of our inaugural NCLS (National Church Life Survey) results can be found HERE.
(The parish looks forward to taking part in the 2021 NCLS)