Year of St Joseph Consecration
Year of St Joseph Consecration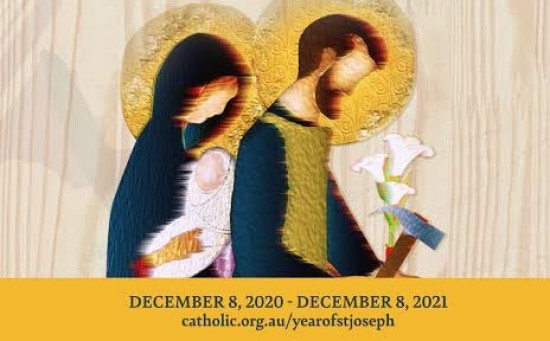 On May 1, in this Year of St Joseph, we celebrate the feast day of St. Joseph the Worker. To coincide with this feast day we will be:
1) celebrating a special Mass on Sunday 2 May at 5pm for all those who have served and ministered in our parish over the last 12 months. This Mass will be an opportunity to pray in thanksgiving for all those who, during the extraordinary circumstances brought about by the covid19 pandemic, 'served with humility' like St Joseph.
2) inviting everyone, individually or as a household, to join with Fr David and fellow parishioners in a '33 day Consecration to St Joseph' starting on 1 May.
Leaflets (with consecration prayers and reflections) are still available at all Masses this weekend, and copies of the book 'Consecration To St Joseph: The Wonders of Our Spiritual Father' can be purchased as an e-book.
However, no matter if you have the book or leaflet, we are encouraging everyone to participate over the next 33 days by:
- finding time each day to pray the Pope's 'Prayer to St Joseph' and accessing the 'Year of St Joseph' prayers and resources available through our diocesan website: www.dow.org.au/media-resources/year-of-st-joseph/
- uniting with the Sisters of St Joseph in "A Month With Saint Joseph" - Each weekly video reflection is accompanied by a pdf copy of the prayers, images, and hymns for each week. A written version of the video and other content for the Year of St Joseph can be accessed here: www.sosj.org.au/yearofstjoseph
On Wednesday 2 June (the final day of the 33 day consecration) Masses will be celebrated at 8.30am and 7pm at our Southern Mass Centre (Oran Park)
At these Masses, parishioners will have the opportunity to recite the consecration prayer together. At the end of these Masses, those who make the consecration will be presented with a holy card and 'entrustment to St Joseph certificate' to serve as a visible sign and reminder of their consecration.
(Those who may have already completed the '33 day consecration to St Joseph' in the lead up to 19 March or 1 May or another time are encouraged to also attend one of these Masses on 2 June to renew their consecration)