Parish Bookstore
We are excited to announce our new online parish bookstore – filled with some of the finest faith-based books to aid your spiritual journey.
Every purchase made through our bookstore, earns money for our parish.

Make our parish bookstore your first stop when buying your next book.

We thank Garratt Publishing for their partnership in this initiative.
Click

HERE

to start shopping today.
PARISH BOOK CLUB – LAUNCHED IN JULY 2021
To coincide with the 'virtual opening' of our bookstore, we have now started a Parish Book club – that provides a social gathering to explore themes of our Christian faith through literature, as well as builds community "through the shared experience of great stories".
Participants are invited to purchase, and then read over the month, the selected book and to then gather for a time of conversation and discussion.
Meeting time: 1st Tuesday of every month from 7pm – 8.30pm
Venue: For September and October, the Book Club will meet 'over Zoom' to fulfill the covid protocols, but hopefully we will be able to move to 'face to face' gatherings later in the year.
Want to take part? Please email the Parish Office oranpark@dow.org.au to be sent the Zoom link.
Our book selections for the next few Book Club gatherings are: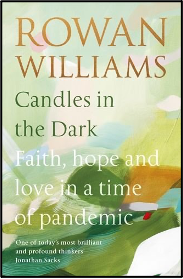 SEPTEMBER (read the book during August, and then meet on Tuesday 7 September):
"Candles in the Dark: Faith, Hope and Love in a time of Pandemic" (Rowan Williams)
To secure a special 'book club' price through our online parish bookstore please email the Parish Office oranpark@dow.org.au to be sent the 'coupon code'
OCTOBER (read the book during September, and then meet on Tuesday 5 October):
"The Labyrinth" (Amanda Lohrey)
Due to the popularity of this book, that won the 2021 Miles Franklin Literary Award, we encourage you to purchase a copy asap, through online book order sites such as Amazon or Book Depository (or a local bookshop), so you have a copy to start reading throughout September. Both Paperback and Kindle editions of this book are available.
---